Discovering Istria, Croatia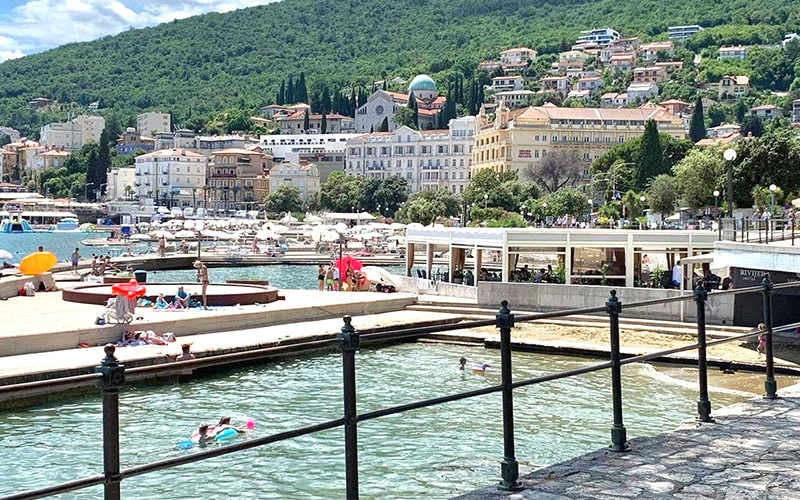 A heart-shaped peninsula in the county's northwest and is known as being the Tuscany of Croatia.
Istria is a heart-shaped peninsula in the county's northwest and is known as being the Tuscany of Croatia. The easiest way to get to Istria is by catching a Ryaniar flight to Trieste located only 1.5 hours away by car. Italian influences could be seen throughout the Istrian villages and acclaimed gastronomy. 
An excellent way to get around Istria is by renting a car as it allows you to visit so many different places in a short time. With relatively short distances, you can enjoy Istria's countryside and charming hill towns.
Visit Istria
A place worth visiting in the southern tip of Istria is Pula. Apart from it being a busy commercial city by the sea, it is home to the outstanding and well preserved Roman Amphiteatre. You might imagine for a second you're in Rome so don't miss the chance for a photograph. Pula is also a good base for exploring the protected Brijuni Islands National Park which is covered by laurel forests and can be visited by boat.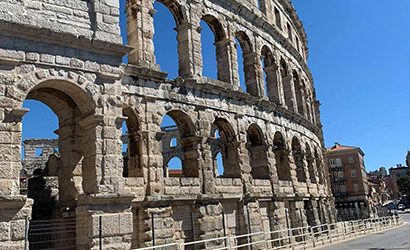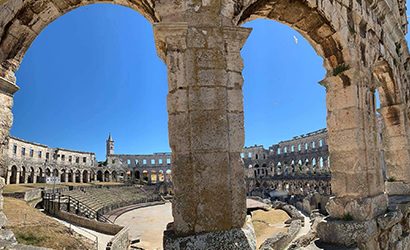 Labin is a picturesque town situated on a high hill in eastern Istria. It is characterised by cobbled alleys, light-coloured houses and century old churches. One cannot not miss dining at the best pizzeria in Croatia whilst also appreciating the beautiful green landscape. You will also be able to spot the city of Rabac which is well-known for having a series of pebbled beaches surrounded by crystal clear waters. Rabac is only 5 minutes away from the Girandella Family Resort and Bellevue Resort which both promise the opportunity to enjoy the sun setting upon the beautiful cliffs from your balcony room. An active way of exploring this region is by embarking on a hiking or bike trail which allows you to appreciate the never ending green landscape. 
A captivating little walled town is Motovun which is known for being a cuisine heaven with its abundance of truffles and vineyards. After walking through the winding streets of the medieval Old Town, a wine tasting tour is highly recommended which takes you through the process of wine production with the highlight being actually tasting the wines.

This ancient Roman town attracts thousands of tourists between the summer months and is filled with many tourist resorts. However, it has still managed to preserve its appearance of Romanesque and baroque buildings. One of the main highlights of this historical city is the World's Heritage listed basilica famously known as Euphrasian Basilica. Simply strolling around the city center and the entire Riviera is the best way to discover Porec. One could also decide to take the active alternative of discovering the city and its surroundings by walking or renting a bike and following the clearly marked routes one could follow.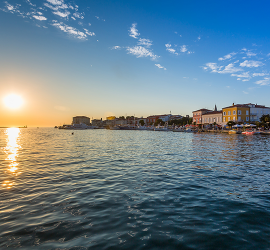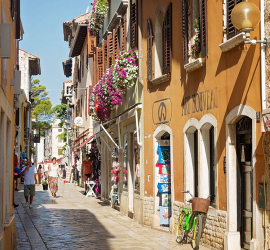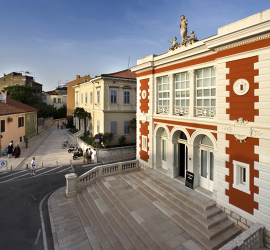 Rovinj is the 2nd most visited place in Croatia and is Istria's coastal highlight attraction. This small and charming town provides a unique experience for any traveller as it manages to combine rich tradition with the modern times. The Old town is built on an island and is characterised by cobbled streets and small squares with the Church of St. Euphemia and it's tower hovering above all the rest of the city. Rovinj has developed an exquisite gastronomy where one can enjoy eating seafood in one of the many restaurants located along its spectacular harbour.
Visit Istria